Others are taking action.
How about you?
Is building your business one of your New Year's Resolutions?
Well, what the heck does that look like?
We've learned that there are only 3 ways to make more money or increase sales at any given time.
1) Get more customers (more transactions)
2) Sell more or increase the size of each transaction
3) Increase the frequency of transactions
So in 2013 you could resolve to get more customers for your business. Or increase the size or frequency of each transaction, etc.
Good luck with that!
But for all successful resolutions, there are action steps you must take.
Resolving to lose 20 lbs means creating time to exercise and planning healthy meals,  perhaps skipping fast food.
Similarly there are a couple of key action steps you must take in order build your business in 2013.
1) Building a bigger and better list of your current customers and potential customers.
2) Having a plan to communicate clearly and regularly what you offer to each group.
Its not rocket science that the greater reach and exposure a business has, the greater the number of sales. Its why one :30 Super Bowl commercial costs $2 million.
But the process of building your list or lists of customers is just that; a process.
Like exercising to lose weight.
Your first few efforts might seem weak or unfamiliar. And the results slow, if you see any at all. But after awhile your list building muscle grows.
You learn the tricks to effectively capturing customer information, perhaps even segmenting based on buying habits.
You continue to reach out to more of your customers and prospects, providing them valuable information about your products and services.
You start to see some results from your marketing campaigns whether they be email, text, or direct mail.
Keep in mind, the first step involves blowing out some of the head trash that might have held you back in the past. Also, having the courage to ask your customers for their contact information. Just because you hate when businesses ask for your email that does not mean your customers feel the same way.
Chances are if they took the effort to travel to your shop, gave you their hard earned money, or stopped at your booth or display, they're interested in what you're selling. And you should be making every effort to capture their contact information, and interests however you can.
Not every customer is going to fill out your form, or add their name to your list, or put their card in the box, but you might be surprised to find out how many do.
A couple of dozen soon becomes a couple of hundred, and by the end of the year maybe a couple of thousand.  Set a realistic goal and work towards it.
Successful New Year's resolutions are all about taking action.
The more customers you can capture, the more sales you'll have and more sales equals more money for your business.
So, are you ready to build your business in 2013?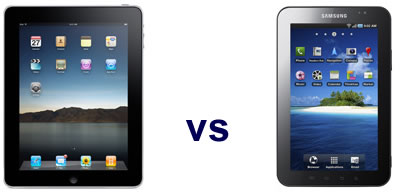 We are asked repeatedly:
"Can I use some other type of device than an iPad to capture names, emails and info from customers?"
Our answer is always the same:  "Sure,  but you don't want to." (we even have an iCapture app for Android)  We say drop the $400 for an iPad2 and be done with it.
The extra hundred or hundred fifty or even $200 is worth every penny.
Imagine if you were to choose a quarterback to lead your newly minted NFL team.
If Tom Brady was available, would you sign him?  You could sign Matt Hasselbeck or Joe Flacco for half as much and save some money, but what's the ultimate goal?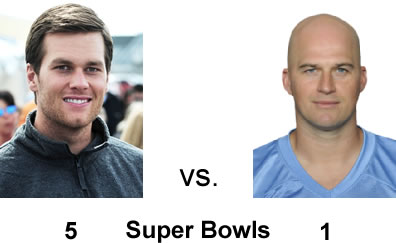 If you're there to sell tickets and win Super Bowls, it s a no brainer.  You have a proven performer with a high level of notoriety, respect and attractiveness. You look good merely by association.
That's what you get with the iPad. A certain amount of sex appeal that nothing else even comes to close matching.
We say this not  because we're Apple snobs. Simply put,  you just look cooler with an iPad. Sorry Samsung, but the iPad is the original, the standard bearer. Like it or not,  the tablet you choose is an extension of you and your business.
Remember, the goal of iCapture is to help you positively engage with customers and potentials.  If your customers are interacting with your device, impressions (first or otherwise) matter even more.
Brady's or Hasselbeck's?
For which team would you rather play?
Constant Contact recently released a study detailing the most effective list-growing techniques for small businesses.  Here are the results: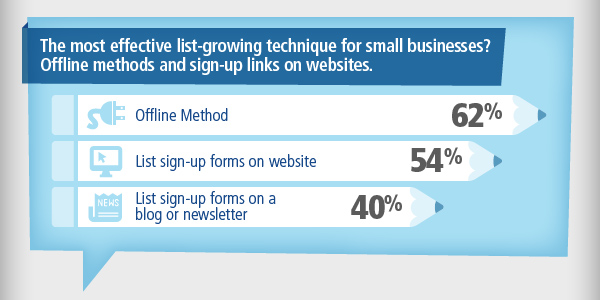 Read the complete article on the Constant Contact blog.
In 2011, Bronco Motors, Idaho's largest Hyundai/Nissan/Mitsubishi dealer, sought
ways to better engage customers at off-site events they sponsored. Bronco Motors is
very community oriented and views sponsorships as a way to interact with prospects
in a non sales environment, support community causes and events they believed in,
and ultimately sell more vehicles.
While the first two goals are fairly subjective and difficult to track, the most
important outcome of selling more vehicles is even more so with these events.
Since, none of the three big off-site events involve actual sales, it is critical that
potential customer information be captured and followed up with and sales be
tracked back to the event.
In an effort to capture lead information at these non sale events, Bronco Motors
contracted with iCapture to install an iPad kiosk at three of their busiest and most
high profiled events; The Green Expo, Western Idaho Fair, Women's Fitness
Celebration.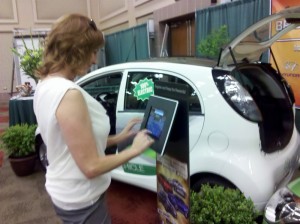 Here attendees from vastly different backgrounds are asked to opt-in for more
information about the vehicles on display. Bronco Motors supplies the iPad while
iCapture loads the software, installs and supports the kiosk, and provides a
secure backend with real time access to the data input. iCapture also designs
and delivers a dynamic "Thank You or Welcome" email and a service department
coupon that is delivered to each contact.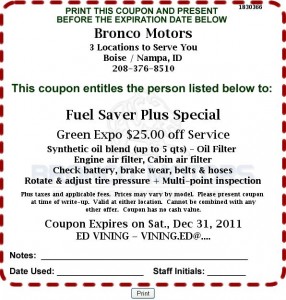 On the iPad, attendees were asked a series of questions to determine vehicle
preference, brand preference, and if, and or when they were planning on
purchasing a vehicle. The idea was to not only gather emails, but ask a few
preference questions to better segment the list and then target each group
accordingly via email campaigns.
While service discount coupons and a drawing for a complete vehicle detail
provided some incentive for attendees to register at the two expos, it was the
give away of an iPod Touch each day during the Idaho Fair that generated the
greatest response and results. On average, between 50 and 90 entries per day
were added in all 3 scenarios. The iPad entry also made picking the names and
contacting each of the winners via email that much easier
Getting the sales staff involved with some incentive was also critical to the
overall success of the program. A "Who helped you today?" question was also
included in the sequence which let managers track contacts back to the sales
person responsible. This allowed managers to "keep score" while naturally
assigning each lead to the same salesperson for future interaction. A contest for
the sales team proved successful as nearly twice as many names were added
during the Women's Celebration Expo than during the Boise Green Expo in the
same amount of time.
Among the most valuable questions posed to attendees was if and when they
planned to buy a vehicle. Keep in mind, "Not sure" was among the answer
options and in each case received the single greatest number of responses. But
overall, roughly the same number of respondents said they expected to purchase
a vehicle in the next 12 months then answered "I'm not sure."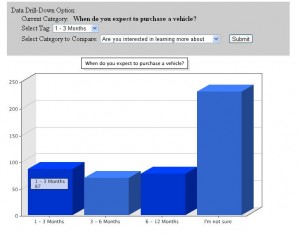 The ability to segment and target according to one's purchasing plans gives
management a natural follow up strategy and a place to start with a focused
email marketing campaign. And with a data drill-down option, Bronco Motors is
able to closely target those prospective 90-day buyers based on preferred
vehicle make they offer (Hyundai vs. Nissan vs Mitsubishi) and new vehicle vs.
used
Bronco Motors management said that within the first week (Aug. 26- Sept 2,
2011) they sold 8 new vehicles to fair goers from the list of 73 ninety-day
prospects. Sales results from the other events were not made available to
iCapture.
_________________            # of opt-ins                        # to buy next 90 days
Boise Green Expo                        88                                             6
Western Idaho Fair                     408                                          73
Women's Fitness Expo               157                                          10
In all, Bronco Motors captured email and other information from 653 prospective
customers from 3 distinct demographic groups (Green Expo, Women's
Celebration attendees and W. Idaho Fair goers).
Based on the information collected, Bronco Motors begins 2012 in position to
deliver relevant marketing information via targeted email campaigns while
tracking open rates, click through rates, and ultimately the number of vehicles
purchased. Armed with data collection strategies gleaned from last year's
events, Bronco Motors fully expects to collect double the amount of customer
data this year and turn even more prospects into buyers.
That was the message Lee McLemore heard loud and clear while attending a Yamaha marketing seminar in 2011. As owner of a Yamaha/Honda motorcycle and ATV dealership in Mississippi, Lee was doing some email marketing, having created a Constant Contact account to make it easier. But like many retailers new to the activity, Lee hadn't had much luck adding names to his email database outside of his website. With the motorcycle season around the corner and events like the Mississippi Boat, Cycle and RV Show leading up to it, Lee decided to follow the marketers advice.
In early February, Lee bought an iPad ($499) and began searching online for something to put it in along with some software to run on his new device. He found many kiosk options and went with a less expensive model; $379 from Maclocks.com which included shipping.

Lee's software search began on Google where he found a new app called iCapture. This app claimed to turn any iPad into a data collection machine. Users could create custom questions which would help Lee not just capture the information he wanted,  but also segment or separate his customer info by interest, brand, age or zip code. Digging deeper into iCapture, Lee discovered the app would also funnel his new customer or prospect information from his iPad directly into his Constant Contact email marketing account.  With a little support from the iCapture team, Lee created his questionnaire along with a custom look with logo. Total cost of the iCapture software; $119 a year.
Now all he needed was a plan to go about building his prospect list. Lee had remembered one other thing the Yamaha guy had said. Something about hiring an attractive young lady and commissioning her to get folks to opt-in for more info about the great line of motorcycles, ATV's and Wave Runners at Lake Hill Motors.
Lee's test market would be at the Mississippi RV, Boat and Cycle show in Tupelo the final weekend in February. With thousands of motor sport enthusiasts walking through the Tupelo Furniture market, this was Lee's chance to reach out and capture a targeted audience, introduce what he had to offer, stay in close touch with them via email, and ultimately sell his products.
With the kiosk setup and ready to go at his display, his staff dialed in and looking good, Lake Hill Motors started capturing names, emails and preferences from interested show goers.
Over the next 3 days, the staff collected names and emails from 76 individual prospects, along with their preferred vehicle types. This new information was delivered directly into his Constant Contact account where a "Welcome to Lake Hill Motors" email was automatically delivered to each prospect.
The kiosk and iPad now sit in the showroom in Corinth where every day another couple of Lake Hill Motors customers take the :30 and enter their information.  As Lake Hill Motors celebrates its 50th year in business in 2012, Lee and his staff plan to pack the Email Kiosk machine to the dozens of outside events on the schedule. He expects to fully double his database to over 1,000 by the end of the year and be in fine position to begin Lake Hill Motors second half century in business.