Lead Qualifiers instantly Prioritize your Follow-Up!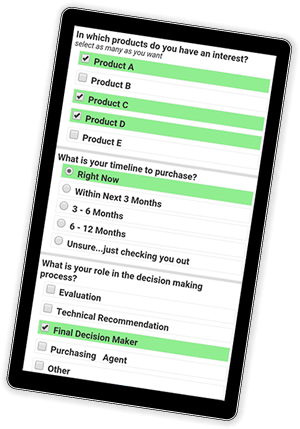 When you finish a show or conference, you're exhausted.  Good luck trying to remember who should be on your Top 10 List next week!
Lead Qualifiers save the day!
Whether you are scanning a tradeshow badge or a business card, lead qualifiers are appended to your new contact with just a couple of additional clicks.
Popular Lead Qualifiers
The most popular lead qualifiers fall into these categories:
Product / Service Interests
Budget
Purchase Timeline
Decision Making Ability
Critical Decision Making Factors
Competitors / Current Usage
After the Show… How Does this Work?
When you are finished and return to the office, all of your new contacts are neatly assembled in a spreadsheet (or automatically sent to your CRM). In addition, you have a complete picture based on the lead qualifiers that were selected during the event.
Simply sort the spreadsheet to identify and prioritize who is most valuable RIGHT NOW!