Getting Started
iCapture lets you define what information you want to capture.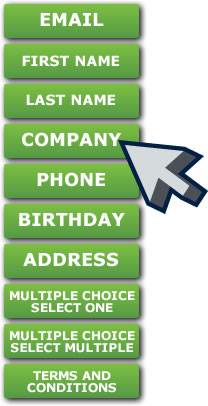 The set of questions you pick become a"Questionnaire".
You can pick from over 15 pre-defined question types (Name, Email, Zip, Phone, etc.) or pick a generic question type (text field, text box, number, etc.).
A questionnaire could have 2 questions (like name and email) or 20 questions (like "How did you hear about us?" or "What's your favorite flavor?…), it's up to you!
Example Questionnaire

This above questionnaire (with 4 questions) results in the 4 tablet screens shown below.
All Questionnaires are created in iCapture's admin (Back Office).

Do you have an iCapture account?
Create a free iCapture account (no credit card req'd) and see how easy it is to create your own questionnaire!
Once you get started, you can also create multiple questionnaires for different occasions.