Trade shows and industry events are an excellent marketing and sales opportunity for companies looking to find new partners, connect with existing customers, and, of course, find a wealth of new leads all in one place. 
But seasoned event marketing professionals know that lead capture at events can prove to be a little chaotic. Different trade shows offer a variety of lead retrieval solutions, and they range in effectiveness. Often, marketers and sales associates have to spend valuable time waiting for a badge scanner to share on the floor. And after the event, CRM admins, sales associates, or event marketers have to manually upload CSVs to their CRMs. These processes often cause leads to fall through the cracks, or they keep them waiting too long and fail to strike while the iron is hot. 
For marketing and sales teams that attend or exhibit at trade shows and industry events several times a year, a tool like iCapture is a gamechanger: it helps event teams capture lead information in seconds, and it integrates with HubSpot to file away lead information into the CRM automatically. 
HubSpot is an all-in-one CRM that powers the entire customer journey: from marketing, to sales, to customer education, to upsells, to customer care. 
"We use iCapture to gather new tradeshow leads. We were able to make the connection to HubSpot quickly and easily. Then we were able to create automations in HubSpot to push the data to our backend. The data came in cleanly and we mobilized our sales team based on that data," says Greg Cannella, a HubSpot and iCapture user.
We'll get into four ways that iCapture and HubSpot work together to help you maximize ROI from trade shows and other industry events. 
Eliminate Manual Entry of Lead Information and Automatically Deliver Lead Info to HubSpot 
iCapture and HubSpot users can seamlessly turn trade show leads into revenue, because sales teams can capture, qualify, and send leads into the HubSpot in real time with the iCapture app. This way,  sales teams can focus their time and attention on tailoring the perfect pitch and closing deals. 
And since every team member at the event can use the iCapture app on their phone, there's no waiting around for badge scanners that only work part of the time anyway. This means each team member can talk to more leads, automatically send their info to the CRM, and generate more revenue from each event.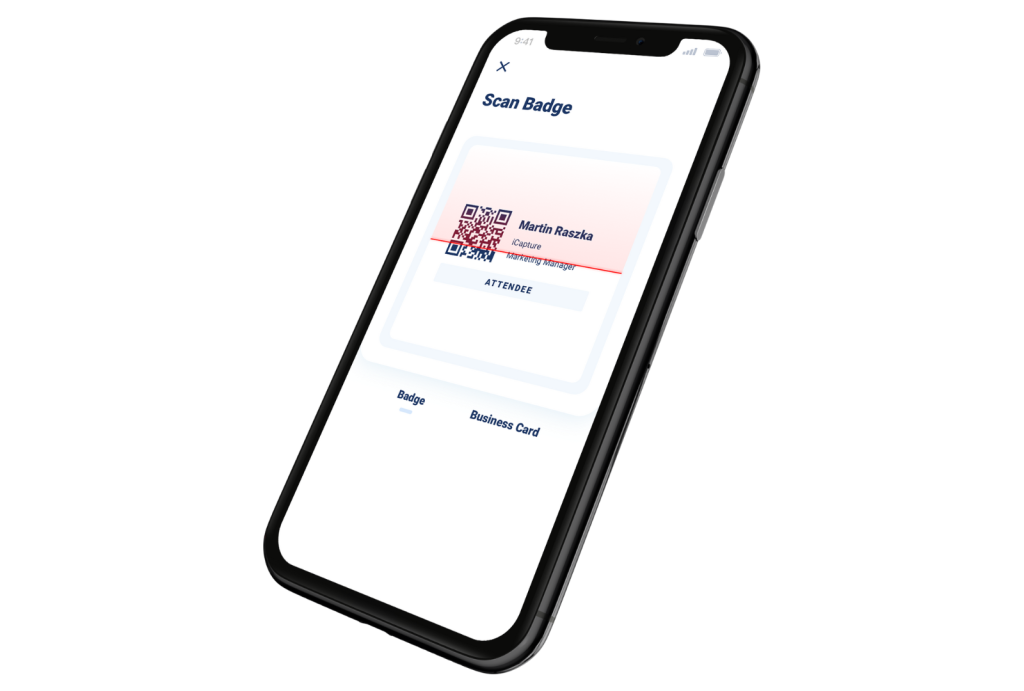 By eliminating manual lead data entry, post-event outreach can happen faster, so leads are more likely to turn into customers.
Consider a room booking software company exhibiting at a hotel industry trade show. As hotel managers and team members engage with the room booking software's sales and marketing team, business card information can be captured in seconds with the iCapture app. The information is automatically logged in HubSpot, so leads can be enrolled in the correct nurtures, and sales teams back at HQ can start the direct follow-up process.
1. Ensure Lead Information is Logged Correctly — So You Can Close Deals on the Floor and Down the Line
iCapture lets you standardize event lead capture forms, which means your teams get consistent data from all of your event and trade show leads — and automatic sync to HubSpot is error-free. With standardized forms and automatic data logging, sales teams can prioritize sales-ready leads while still on the trade show floor.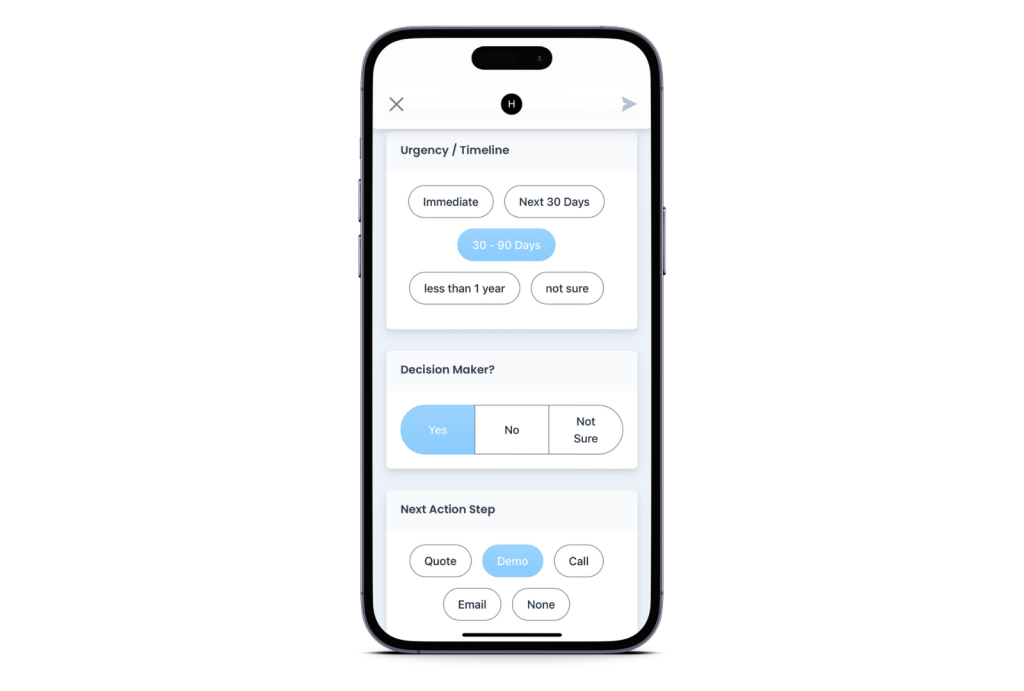 When you ensure that all leads are captured and uploaded correctly post-event, the chance for lost acquisition reporting or deal development disappears. With the use of iCapture forms at events, the standardization of data will ensure that you maintain database health — both in iCapture and in HubSpot.
2. Automatically Assign New Leads to the Perfect Nurture Path
With iCapture and HubSpot integration users can auto-assign leads to lists, workflows, and sequences within HubSpot — without marketers or sales team members having to do anything after the event. Event leads automatically join lists for sales follow ups, specific product nurtures, or email newsletters. This helps your team to increase revenue, because sales teams get access to leads while they're still hot. This increases the likelihood of business opportunities closing after an event, resulting in increased revenue from your events channel.
For example, take a company that sells medical supplies and scrubs and has a booth at a medical industry trade show. As the sales team meets leads, they can scan their badges or business cards and upload their information automatically into HubSpot. Before the event, the event marketing team will have built a variety of post-event follow up email flows, and they'll also have identified which product nurtures might make sense for attendees of this event. So when a new lead is scanned into HubSpot, they're added to a list of qualified leads from the event, a nurture that centers around uniforms and PPE, and an email newsletter with educational content on hospital management.
3. Capture More Leads and Prove Event ROI
Trade shows and events are high-cost channels: it's not cheap to get team members to the show, to order booth decor, to create merch and other marketing materials, and to ship everything around the country. However, companies continue to rely on events because they present unmatched opportunities for lead generation. 
 At successful companies, marketing channel owners must always be able to prove that their tactics are working (or if they aren't, how they plan to change course). Having validated event lead data from iCapture and HubSpot makes proving event marketing ROI easier than ever. It also helps teams compare the success of various types of events in different locations, so they can learn where to put their efforts next year.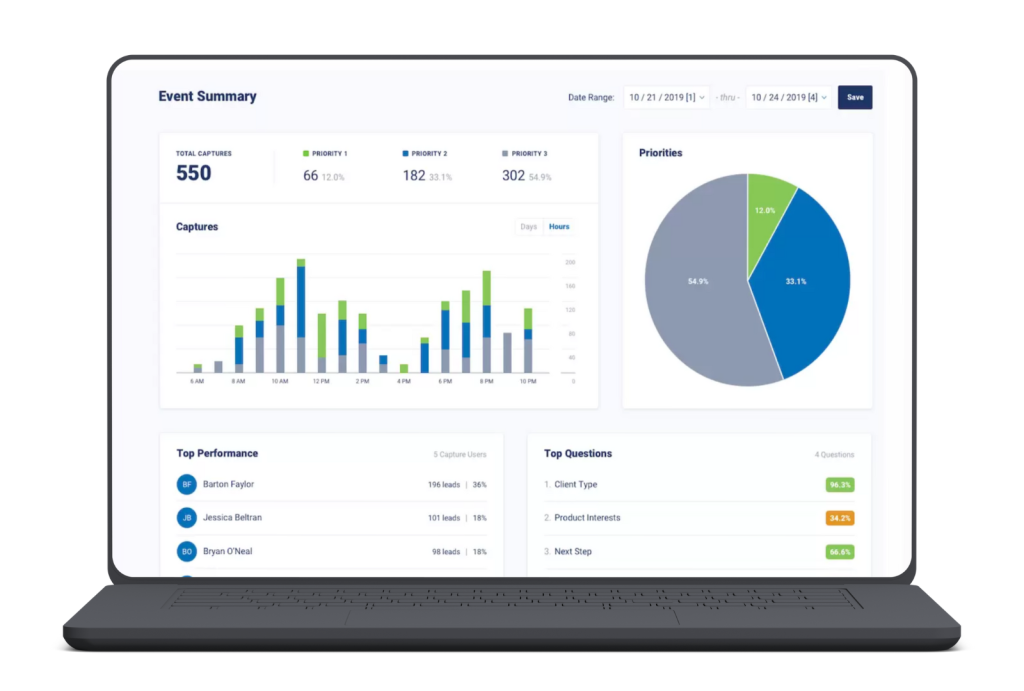 By capturing more qualified leads from trade shows and events with personalized lead forms, companies can ensure their post-event leads data is always clean and organized — so sales teams can get to work following up and bringing in revenue.
For example, after a restaurant & bar industry expo, an event marketer at an imported alcohol supply company will be able to come back to the larger marketing team, easily point to the deals that were closed as a direct result of the event, and show the total revenue that's set to be coming in from the event leads that are currently being worked. Add in a year-over-year comparison of that specific event's performance, and the marketing team is able to make an informed decision on their future event strategy.