At iCapture, we have a commitment to deliver the best possible product to our customers. We value feedback and ideas and continuously work to make iCapture the best it can be.
Today we are thrilled to announce a significant milestone on our journey - the Fall 2023 G2 reports. In the Summer 2023 G2 release, iCapture earned a record-breaking 11 badges. Following the success of last quarter, in the Fall 2023, iCapture added 1 more to our already record number of badges, for a total of 12 awards.
See all our reviews and ratings.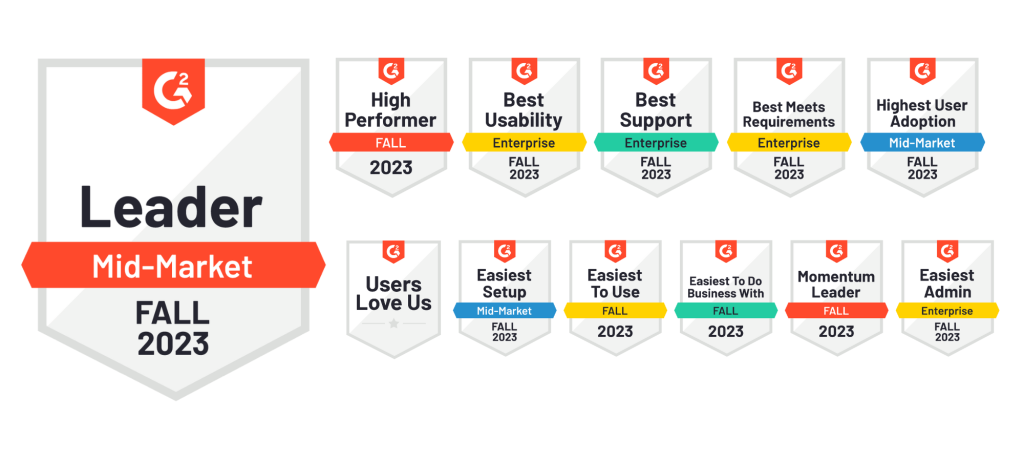 What do G2 Badges Mean?
G2 is the leading software review marketplace where users leave authenticated reviews. These reviews help 60 million buyers each year make informed decisions when researching software. Every quarter, G2 assesses performance of companies and releases comprehensive reports. The badges that G2 awards goes to the companies with the highest rating in their category.
iCapture G2 Badges
Leader
For the third quarter in a row, iCapture is the proud holder of the exclusive Leader badge. This ranks us at the top for lead retrieval solutions. The ongoing position as the frontrunner is a testament to our unwavering commitment to improvement. We are able to be the best at what we do by having one single focus: maximizing your results from trade shows and events with intelligent lead capture.
Best Meets Requirements
Every business has unique trade show lead retrieval requirements. iCapture shines by offering a solution that caters to those specific needs. The "Best Meets Requirements" badge reflects iCapture's adaptability.
Best Usability
iCapture stands out for our user-friendly interface and easy to use app. This allows for increased usability across departments.
Easiest Admin
The iCapture back office platform allows Admin users to easily create and manage events. Admin users have real-time visibility into event results and analytics.
Easiest to Use
From the iCapture back office, to the rep facing app, iCapture prioritizes ease of use. Users have praised iCapture for its straightforward and intuitive design, ensuring a seamless experience for all users.
Easiest to do business with
iCapture is committed to fostering strong and productive relationships with its customers. Our dedicated Customer Success members make sure doing business with us is a breeze.
Best Support
From our dedicated Success Managers to our 24/7 support team, we make sure that you always have support when needed. We have a commitment to our client's success.
Momentum Leader
The G2 Momentum Leader Badges represent products on a high-growth trajectory. This is based on user satisfaction, employee growth, and digital presence. This badge is another indication of iCapture's continuing positive momentum.
Highest User Adoption
A trade show lead retrieval app is only as effective as its user adoption rate. iCapture has emerged as the preferred choice among exhibitors. The "Highest User Adoption" badge reflects the app's seamless user experience. It also demonstrates how iCapture wins the hearts of our customers.
Easiest Setup
Setting up an app connected to your CRM may seem like a daunting task, but with iCapture, it is a breeze. Our Success team walks you through each step of the clearly-defined launch process.
High Performer
A "High Performer" badge shows iCapture's outstanding ability to deliver results from trade shows. With results-driven features, iCapture has proven its worth time and again.
Users Love Us
Last but not least is the "Users Love Us" badge. Our customers love us and show it with their glowing feedback and satisfaction ratings. This award goes to those who consistently receive high customer ratings.
Conclusion
Fall of 2023 is starting off as a groundbreaking season for us. One marked with significant growth, product development, and your unwavering support. With 12 G2 badges, we're not just celebrating our success, but the transformation of the world of trade show lead capture.
We want to say a special thank you to our customers. THANK YOU! Your feedback has been a guiding light that helps shape our roadmap and growth. The work is not over yet. We will continue to strive for bigger and better things.