To Own or Not to Own? That Is the Question!
When it comes to capturing leads at trade shows and events — your team deserves a trade show lead capture app that works for them and accomplishes your event goals.
There are two types of trade show lead capture apps to choose from when exhibiting at a show or conference. First, the industry relic - show provided app. This is supplied by the show and is used only for that specific event. The second, and increasingly popular option, is your "own" lead capture app. Offered by companies like iCapture, this app is used at every event. For the past decade, show-provided lead capture tools were the status quo, and the only option. Now there are many options to choose from when it comes to trade show lead capture apps.
Today we'll examine the pros and cons of using show-provided lead capture tools versus owning the entire process with an app like iCapture.
iCapture is an app that reps download onto their phone or smart device to capture leads at any event. They can qualify prospects in real-time, and the leads sync with CRM in real time - for fast follow-up and post event engagement. As much as customers love our Trade Show Lead Capture App — it may not be a fit for every company. By the time you finish this article, you will know if iCapture is a smart choice for you.
Let's start with some of the benefits of our trade show lead capture software.
The Pros of Owning A Trade Show Lead Capture App 
Owning your own lead capture process comes with many benefits. The app and lead form can be fully customized to meet your company processes and goals. Let's begin with the pros of owning your lead capture app.
Customization:

Your company has control over what data is collected on the lead form! Along with the customizable lead form, you are also able to qualify captures.This allows leads to be sorted and routed to the correct places. For example, a lead who is marked as "Ready to Buy" will go straight to your sales team. A lead that came by the booth for swag, will get sent to a marketing nurture campaign.

2. Integration:

iCapture integrates your trade show lead capture with your favorite CRM like Hubspot or Salesforce. This allows for your quality leads to be sent directly to your CRM where your sales team can have immediate access. This saves time, protects against error or loss, and significantly increases follow-up speed.

Visibility:

iCapture provides a real-time view into leads captured and lead quality. It also provides the ability to review rep performance, event ROI, and make data-based decisions that can increase event performance.

Consistency:

Since iCapture is an app, everyone on the team uses the same system to capture leads. No need to teach a new system at every trade show. Owning your trade show lead capture app keeps everyone on the same page. Always.

Simplicity:

Despite the robust capabilities of data collection, the iCapture app is simple to use. Reps can collect data with the push of a button, take voice notes, scan badges or business cards, and follow up seamlessly. Sales reps love our trade show lead capture app and adopt the technology quickly.

Support:

At iCapture, you are assigned a dedicated success manager. This team member walks you through your whole integration journey and makes the implementation as easy as possible. Along with your success manager comes a 24/7 support team. 

Versatility:

Not all shows provide badges or lead retrieval apps. iCapture has that covered too. Easily capture business cards, set up a kiosk lead form, or create a QR code form so that you can capture leads no matter what type of event you're attending. This is crucial in maintaining compliance and ensuring high quantities of leads are captured at shows and events without scannable badges.

Convenience:

Some of the best sales conversations happen at unexpected times. With an event lead capture app like iCapture, you can collect leads from anywhere, including the lunch room, hotel lobby, dinner table, or the elevator! 

Data Security and GDPR Compliance:

It is important to work with a company who has mechanisms in place to make sure your data is safe. iCapture has a SOC 2 Type 2 data certification to protect your data. We also make GDPR compliance easy with digital opt-in, right to be forgotten, and more. 
The nine benefits of owning your lead capture tool makes iCapture a smart choice for businesses that attend trade shows and events. However, it may not be for everyone.
Cons of Owning an App-based Trade Show Lead Capture
iCapture is not for everyone and may have some cons depending on your company's structure and priorities. Here are a few to consider before adopting the technology.
Launch time:

Upon adopting lead capture software, there is an initial investment of time in setting up and learning the interface. Luckily, the iCapture team walks you through the whole launch process. We help with everything from getting your CRM integrated to training your team. 

API:

Because iCapture does not have access to trade show attendee data, an API kit must be purchased to scan badges at shows with scannable badges. Costs vary per show but are usually less than renting their lead retrieval app.
Who Can Benefit from Owning a Trade Show Capture App? 
iCapture may not be a fit for every business that attends trade shows and events. However, it is a huge asset to many businesses and B2Bs — especially if you meet the following criteria.
Trade shows are a revenue-generating channel for your company.
You exhibit 5+ trade shows, events, or conferences per year.
You exhibit at any events that do not offer a show-provided lead retrieval solution.
Okay, we've spent a lot of time looking at the pros and cons of owned trade show lead capture apps. Let's look a little closer at lead capture apps that are provided by the trade show, event, or conference.
Pros and Cons of Show Provided Lead Capture Apps 
There are a few solid reasons to use the trade show lead retrieval app provided by the event organizers — as well as some major drawbacks. Let's look at the positive side first.
Easy:

The product is simple to purchase. Just pay the fees and have your reps download the app.

Convenient:

Everything is done for you and ready to go. No extra setup is required before the event

Data:

All the data needed for the show or event is included in the purchase. No need to purchase an API kit.
However, the convenience and simplicity of using a provided trade show lead capture device can be offset by these cons.
Non-customizable:

With a cookie-cutter system, your company cannot customize lead forms and qualifiers. Giving your sales team a list of unsorted leads decreases their motivation to follow up.

Clumsy:

Since the app does not integrate with your CRM, there are additional steps needed to manually enter data to make it usable to the team.

Loss of Deals:

Manual entry means there will be a delay in follow-up — which will mean less sales. The first to follow up usually gets the deal.

Inconsistency:

Every provided app is unique for the event — meaning your reps will have to train on a new app for EVERY event.

Immobility

: With a lead capture system provided by an event, you are limited to collecting leads ONLY in your booth. This means that those conversations at networking events, dinners, or anywhere else, are not captured.

Unreliability:

When you are dependent on a trade show to provide lead capture apps, you run the risk of technical issues with the app.

Confusion:

A show-provided lead spreadsheet without qualifiers can make it nearly impossible to measure the success of your event or follow up with your leads with clarity.

Costs:

When you have to pay an initial fee plus more per user at an event, the costs can add up quickly.
While the downsides make a case for owning your trade show lead retrieval app, there are instances when it might make more sense to rent.
If your company only attends one or two trade shows per year, using an app provided by the trade show or event might be the best option.
Pros and Cons of Trade Show Lead Capture Apps at a Glance 
We've created this handy chart so you can see and compare the differences between using show-provided apps versus iCapture.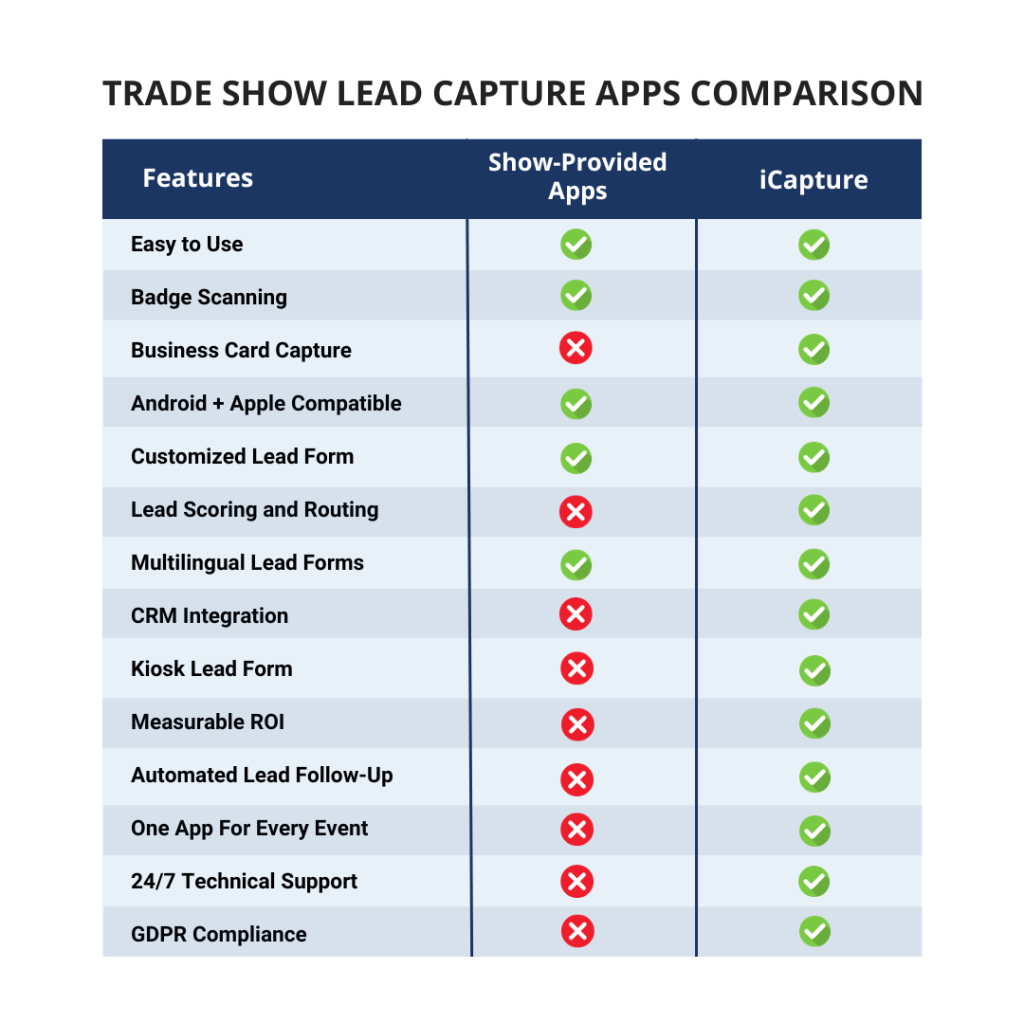 We hope this article has helped aid in your decision whether to own your trade show lead retrieval app or use one provided by the event.
However, we'd be remiss to not mention that our customers think iCapture is a no-brainer.
"iCapture was exactly what we needed, as if we created it ourselves. I can't imagine not using it at any of my future events. It has made our lives so much easier!" — Lori D'Amico, Sr. Field Marketing Manager of HiBob.