Scan Business Cards in a Snap!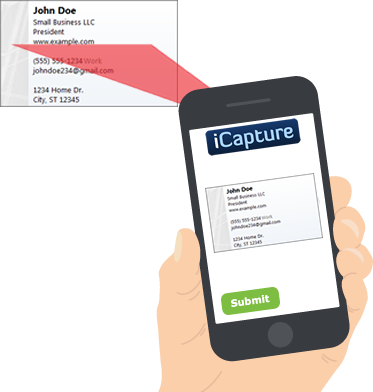 iCapture allows you to snap a picture of a business card with your iPhone, iPad or Android device.
Your time is too valuable to be verifying and correcting poor scans from traditional business card scanning apps!
Leave the transcription of your business cards to us!  iCapture has aligned with the world's leading business card transcription service.  The data from your business cards are double entered… by 2 different human beings to ensure the highest level of accuracy.
How Does this Work?

Whether you are at a conference, trade show, or simply networking after hours, your focus is on business.  Snap a picture of the business card with your iCapture app and you are done.
iCapture's premium business card transcription services ensure you are not burdened by $8.00/hr data entry and verification tasks.  Your data integrity and security is our highest priority.
Once the transcription is complete, we can deliver the contact directly to you or your CRM.  At only $0.25 per business card, you and your team have better things to do!
Try it Yourself!
Take a picture of a business card and watch the magic happen.
Transcription typically takes from 30 minutes to 1 hour.
Want to see it in action? Get your free Business Card Scanning Demo Kit.
Better than OCR Apps!
Although text recognition technology works (OCR), it isn't perfect. Business cards today come in all shapes and sizes, so names and words can be difficult to scan correctly. iCapture takes text recognition to the next level by sending your business card image to a real person that transcribes and verifies your card data for you. The data is verified correct, not once, but twice. Never lose a hot lead again due to bad data.
Want to see iCapture in action? Get your free Business Card Scanning Demo Kit.
Stop Keying in Your Business Cards
It takes, on average, 1.5 hours to hand key in 50 business cards. That is a lot of time and who only has 50 business cards to type in after numerous shows? Get rid of your pending burden and the mountain of business cards with your mobile device. In seconds, you can simply capture the card as an image with your iCapture app and we will transcribe it into secure, digital format that easily export into Salesforce, MailChimp and other CRMs.